Doesn't it feel like winter will never come to an end? Are you dreaming of warm, sunny days, bright flowers and the sounds of birds chirping? Spring is just around the corner, and you need to make the most of it! It's the perfect season to plan a trip to Europe. From magnificent nature to awesome festivals, there is so much to see and do at this time of year. If you haven't already, it's time to plan your spring break! Here at Routeperfect, we have compiled a list of the eight best places for you to consider for your spring getaway!
Popular itinerary – Ultimate Spring Time Vacation:
United Kingdom
When you think of the UK, your mind might picture grey and rainy. That's what makes the spring so special. After a long and cold winter, the sun has finally come out, and bright flowers are popping up all over the country. The most iconic blossom of spring in Britain is the Bluebell. Bluebells magnificently carpet Britain's countryside throughout the spring, particularly in the months of April and May.
If you're in the UK in April anyway, make sure to usher in the warm months at Edinburgh's famous Beltane Fire Festival. This fire festival attracts over 12,000 people annually. It is an evening of tradition, dance, music, and storytelling, all topped off with a massive bonfire. The festival is rooted in Pagan and ancient Gaelic tradition, so you can brush up on your history too!
The Netherlands
Windmills, wooden clogs, and tulips – these are the images that come to mind when one considers a trip to The Netherlands. From March through May, visitors flock to the breathtaking Keukenhof garden to see some beautiful tulips. Located in Lisse, this park is one of the world's largest gardens, and it features a variety of styles and blooms. Though the park itself is open all year, it is most spectacular in the springtime, when visitors walk among some of the most beautiful and colorful flowers in the world.
If you visit in April, you can make it to Keukenhof's flower parade, as well as the festivities of Koningsdag, or King's Day. King's Day is celebrated all over the country but we recommend to visit Amsterdam this April 27. There are city-wide street sales to celebrate Amsterdam's trade history, brightly decorated boats on the canal, street parties and delicious traditional Dutch food.
Spain
Spring is arguably the best time of year for travelling to Spain, as it can get very hot and overrun by tourists in the summer. You will feel like you have the country to yourself when you visit in the milder months. Plus, there is so much going on that time of year! In March, Valencia celebrates Las Fallas, a traditional festival to welcome the coming of spring. Each year, a theme is agreed upon and massive ninots, or puppets, are paraded through the streets. This week is filled with food, music, dance and Valencian tradition: the best ingredients for a great spring getaway! And don't forget, the spring marks the beginning of Spain's bullfighting season!
Israel
Springtime in Israel means the country is in full bloom. The forests of southern Israel are carpeted with beautiful red kalaniyot, or anemones. Israelis flock to the south in early spring to see the south turn red, particularly to Be'eri Forest. If you're in town in the spring, make sure to Jerusalem to see the Light Festival. This event is open to the public, and beautiful light shows are projected onto the walls of Jerusalem's Old City, attracting over 250,000 visitors.
Italy
Italy is magnificent no matter when you go, but there is a certain extra special magic during the spring. One of Rome's most beautiful sites, the Spanish Steps, is made even more spectacular from March through June when they are covered with brightly colored azaleas. After admiring the azaleas, make sure to check and see if there are any festivals going on – springtime in Italy is a celebration of the amazing fruits and vegetables that grow during this season. April is devoted to the artichoke, and there are festivals all over the country that incorporate this unique vegetable. One of Italy's most famous artichoke festivals is the Sagra del Carciofo Romanesco in the Lazio region. Eat your way through Italy on your magical spring getaway!
Japan
In early spring, sakura, or cherry blossoms begin to bloom across southern Japan. By May, the blossoms have spread to the north, and Hanami, or Cherry Blossom Season, is in full swing. If you arrive and see that you missed the season, don't worry – you can travel further north to see the sakura reach Tokyo, and the city has a huge festival called Sanja Matsuri to celebrate the beginning of Spring. This festival often gets a little wild, and attracts over 2 million people each year!
France
Spring is a time of transformation all over the world. In France from March through May, different types of flowers bloom all over the country. In Vosges, the sprawling fields reflect the springtime sun with bright yellow wild daffodils covering the ground. Don't worry if you miss France during the milder spring months, if you make it in the summer you can see the beautiful and fragrant lavender fields of Provence.
Switzerland
If you're like me and you have a phobia of the cold, then you may be wary of visiting Switzerland. The hype of the country revolves around snow-peaked mountains and amazing winter sports. For people like us, the best time to visit Switzerland is in the spring. The snow has melted, revealing lush rolling hills, dotted with wildflowers. Ski trails turn to hiking trails, and people emerge after the cold winter to admire the breathtaking Swiss Alps without completely freezing. After your visit to the Alps, head down to the cities, where different places banish winter and welcome the spring with different festivals. Fasnacht in Basel and Secheslauten in Zurich, each with their own unique customs and traditions, usher in springtime in Switzerland with costumes, fruits, parades, and music. Make sure to include Switzerland on your spring getaway!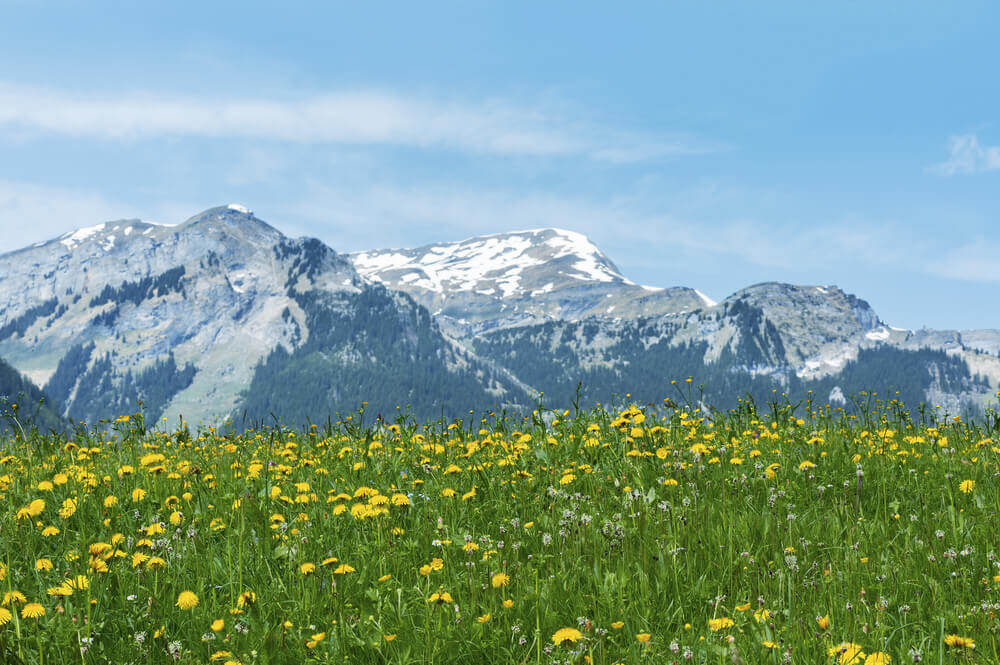 Do you have any other recommendations for a perfect spring getaway? Let us know and comment below!
You may also enjoy reading some other pieces in our blog!
The 9 Best Last-Minute Summer Destinations!
The Best Small Towns in Europe
10 Most Romantic Small Towns In Italy