Springtime in Japan is an absolute dream. The weather is incredible, cherry blossom season (or sakura) is in full swing, and romance is in the air! You and your partner will want to hit up the best spots in Japan to see the national bloom, but where should you go? We've made a list of the best places in Japan for sakura to make your touring plans complete!
Popular itinerary in Japan:
Tokyo
With a complicated mix of super – modern skyscrapers and ancient tradition, Tokyo's wide range of culture and architecture makes it a great place to dive into Japan. Walking the streets of Tokyo, you will feel like you've been transported into the future – that is, until you stumble upon an ancient palace here and a historic temple there. It is also fantastic to see during cherry blossom season, which is late March or early April in Tokyo.
Shinjuku Gyoen National Garden: A great place to visit all season long, Shinjuku Gyoen National Garden is home to over 1,000 trees from 12 different species which bloom at different times throughout sakura. This insures that both early and late visitors will get to experience these stunning blooms.
Ueno Park: A popular spot for cherry blossom parties, this park is home to over 1,000 trees! The trees line the streets leading up to the National Museum, so make sure to stop in there (if you can tear yourself away from the gorgeous flowers.)
Chidorigafuchi Park: This gorgeous park is situated on the banks of the Chidorigafuchi moat. You can rent a boat and paddle along the moat, admiring the trees – which are also lit up at night.
Yokohama
Located just outside of Tokyo, Yokohama is a welcome escape from the bustle of the capital. It is known for its lovely waterfront, excellent art scene, trendy pubs, and of course, gorgeous sakura!
Sankeien Garden: This stunning landscape garden is not only home to gorgeous plants and hundreds of cherry trees, it also boasts a scenic pond and several historic buildings. Wander the gardens surrounded by the beautiful sakura, and dabble in Japanese history and culture visiting the historic architecture.
Kamakura
Japan's first feudal capital, Kamakura bears the architectural evidence of its early days. It was also a hot spot for early Buddhism in Japan, and it still features temples, statues, and a distinct laid back atmosphere.
Tsurugaoka Hachimangu Shrine: Known for its massive Buddha statue and Tsurugaoka Hachimangu Shrine, this lovely seaside Japanese town is a very popular sakura destination. Located just outside of Tokyo, Kamakura offers a different experience than the bustling capital. The world renowned Tsurugaoka Hachimangu Shrine is one of the city's best places for checking out the sakura. Spanning almost 500 meters, the lush cherry blossom orchard surrounds the shrine and pond in this park area.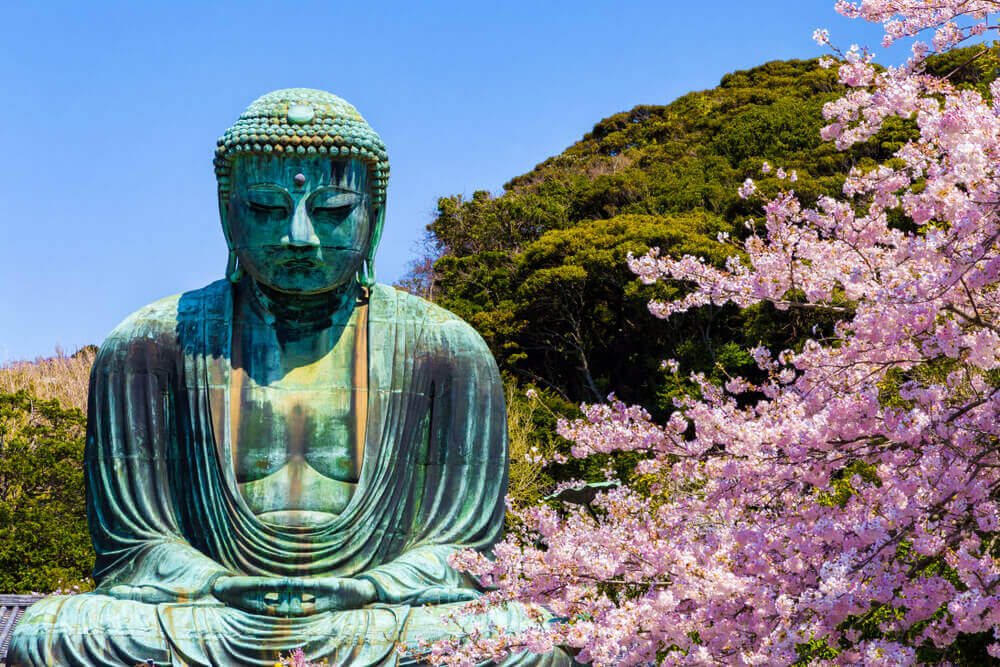 Matsumoto
Surrounded on all sides by mountains and Alps, Matsumoto is known for its breathtaking scenery, particularly its gorgeous sunsets.
Matsumoto Castle: No visit to Matsumoto is complete without a visit to its iconic castle. It is known as one of Japan's most beautiful original castles. Conveniently for you, it is also one of the best places in the city to see cherry blossoms! The grounds are covered with over 300 stunning cherry trees.
Kanazawa
Known for its wealth of cultural gems, Kanazawa transport visitors back in time. Wander the castles, temples, and Geisha district to get a feel for the city's rich culture and ancient traditions.
Kenrokuen Gardens: From the minute cherry blossom season begins, the grounds of this landscape garden will be packed with people. The garden remains open all day and well past dark, with lights illuminating the trees in order to meet the demands of the huge number of visitors.
Nagoya
Don't let Nagoya's industrial reputation fool you. Although it is the home of Toyota and several other major industries, it is still a great place for viewing the sakura.
Nagoya Castle: An absolute must on your visit to Nagoya, there are several species of cherry tree surrounding the castle, offering a more unique sakura experience.
Kyoto
This modern metropolis features countless artifacts from its time as Japan's capital. With ancient temples, palaces, museums, and more, Kyoto is a wonderful balance of modern Japanese innovation and architecture alongside ancient tradition and heritage.
Arashiyama: Located on the outskirts of Kyoto, this district is situated at the foot of the Arashiyama Mountains. Just by the Togetsukyo Bridge, you can view hundreds of blooming sakura with a beautiful mountain backdrop as a bonus.
Heian Shrine: If you missed blossom season by just a few days, don't panic! Heian Shrine is home to beautiful weeping cherry trees, which reach full bloom a few days after the other ones.
Osaka
Japan's third largest city has historically been a merchant city. It is a bustling modern city with a lovely river flowing through. Most of all, Osaka is the place for foodies visiting Japan! It has a great reputation for its rich culinary scene.
Osaka Castle: Explore the sprawling grounds of Osaka Castle, home to over 4,000 cherry trees! We recommend packing a picnic and enjoying it relaxing in the spring sunshine under a tree.
Nara
Japan's first capital, Nara rivals Kyoto in terms of culture and heritage. Nara boasts eight UNESCO World Heritage Sites, and the world famous iconic Daibutsu (Great Buddha) – a site that should be included in all Japanese touring plans!
Nara Park: With over 1,700 trees, Nara Park is one of the best places to view the cherry trees, and should be a "must" for your cherry blossom touring plans. Explore this massive park, and settle in the large lawn encircled by trees and take in the gorgeous views.
What are your touring plans?
What are your touring plans for this year's cherry blossom season? Where in the world have you seen the most beautiful sakura? Let us know in the comments!