Elizabeth Gilbert's book Eat, Pray, Love became one of the world's greatest wanderlust stories. A young woman decides to take on the world as she embarks on an adventure of eating in Italy, praying in India, and falling in love in Indonesia. As you might realize by now, we consider delicious food a highlight of each trip, so we are following Elizabeth Gilbert's "Eat" part of her journey through Italy. Join us on an Italian holiday as we follow Elizabeth by eating your way through Italy and sampling the signature dish in each city. Let's go! And remember that of all the trips to Italy you'll ever make, this one is going to be the most delicious one! Don't miss the chance to enjoy it and benefit from our European itinerary planner to organize your next trip to all of Italy's great cities and eateries.
Popular itinerary – follow Liz Gilbert Italy route:
Rome
Let's start our food journey in Rome, like Liz. Rome is the crown jewel of Italy, the site of monumental historic events, breathtaking art and ancient architecture. But don't forget the food!
Stop for lunch at Caffè della Pace, near Piazza Navona, one of Rome's most beautiful squares. Piazza Navona is known for its three magnificent fountains. Liz had a delicious lunch of roasted chicken and red wine carafe while sitting on the picturesque terrace which usually draws in artists and poets.
Ice cream – After lunch take a short 10 minute walk to Via della Panetteria, where Gilbert tasted the best ice cream in Rome, at Il Gelato di San Crispino.
Have Dinner – Santa Lucia Ristorante‬ is where Liz had wonderful dinner with friends while sitting in the beautiful little garden. The restaurant is located near Piazza Navona as well, and you can't afford to miss their caprese and pasta with truffles.
Our tip – Visit a local trattoria in Trastevere, a picturesque medieval neighborhood, situated across the Tiber River. Narrow streets, charming old houses – this neighborhood offers visitors an authentic local experience for their Italian holiday.
Naples
Moving on to Naples! Colorful, ancient, and absolutely majestic, Naples is known equally for its art and history, as well as being home to the best pizza in Italy. Elizabeth goes there in search of the best slice in the world, declaring she is having a "relationship with her pizza."
Pizza – If you survive the long line, you will eat the best pizza marinara you've ever tasted in L'Antica Pizzeria Da Michele. Located at Via Cesare Sersale, the pizzeria is hidden behind a simple entrance and is only a short drive away from the renowned Teatro San Carlo.
Our tip – Don't miss out on a day trip to visit Pompeii and Mount Vesuvius.
Montepulciano
Situated impressively on a hilltop, Montepulciano is a medieval gem, known for its excellent red wines, especially the Vino Nobile di Montepulciano. Elizabeth visited this romantic picturesque town on her Italian holdiday for a taste of the famous wine. Visit the Palazzo Comunale, the town hall, that offers breathtaking views of Tuscany, climb up Montepulciano main street, making sure to find time to relax with a glass of fine red wine and fresh pasta.
Our Tip– Visit Fattoria Le Capezzine for its round vineyards, where you can see all of Italy's best wine produced. Tour the vineyards and the cellars, taste wine and feel really happy by the end of the day!
Lucca
This beautiful Tuscan town is protected by 16th Century walls, which today serve as a pedestrian promenade. Take a leisurely stroll down cobbled streets, or drink some local Lucchesi wine at one of the many charming cafes. Elizabeth was overjoyed by the town's incredible butcher shops and was delighted by the sausages, ham, juicy chickens, fresh figs and plump peaches.
Our tip – You must eat at Da Pasquale‬, one of the best restaurants in Lucca. Pasquale will make you feel like family, and you will eat the freshest and tastiest antipasti you can imagine.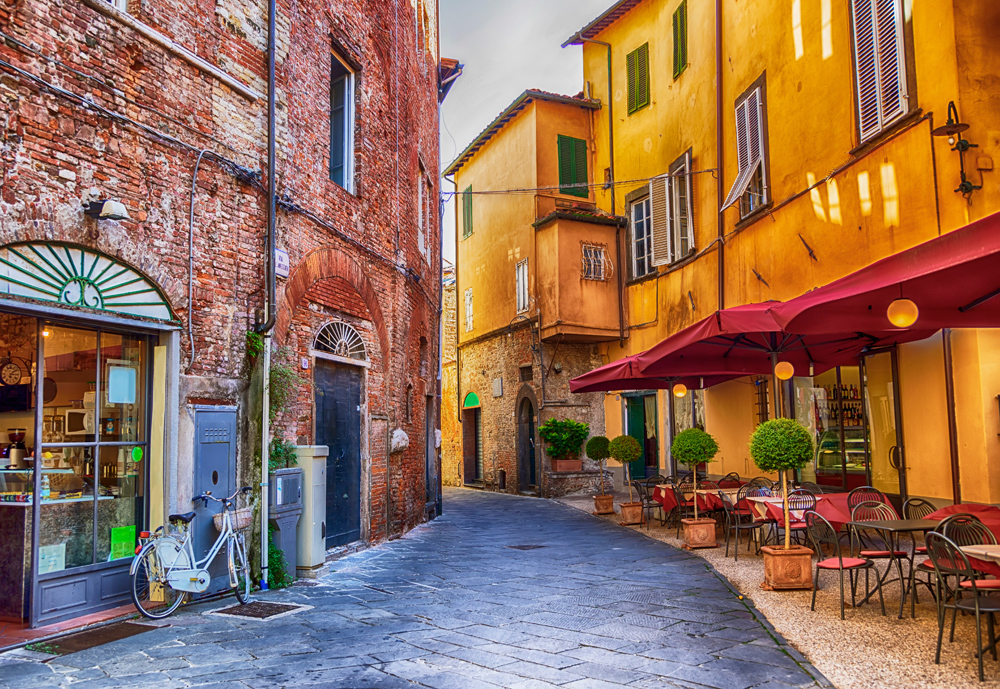 Parma
We can tell you how great Parma is, how beautiful and golden the little streets are, how impressive the medieval cathedral is, but we need to talk about our favorite topic – pasta, prosciutto and parmesan!
Eat Lunch – Parma is known for its delicious ham that goes perfectly with fresh figs, balsamic vinegar and parmigiano. No Italian holiday is complete without lots of parmigiano! Have lunch at Trattoria del Tribunale‬ for the delicious traditional dishes.
Our Tip – Walk it off by visiting Piazza del Duomo for its many landmarks – the historic Cathedral, the majestic Bishop's Palace, the stunning statues of the Baptistery and the museum.
Bologna
The city offers the perfect blend of modernity and cultural preservation. Wander the medieval streets or sit in one of the town's many romantic Piazzas.
Eat lunch – Elizabeth loved Bologna for its signature Bolognese sauce of course! She had a mouthwatering meal and delicious local wine at Ristorante al Pappagallo.
Our Tip – Burn those calories on your Italian holiday by climbing the green hill leading to the Sanctuary of the Madonna di San Luca! At the top , you will be rewarded with a stunning view of the city.