14 Best Castles for your Scottish Holiday
Scotland is magnificent, definitely a must in your Europe itinerary – and the best part about it? It's full of magical, ancient castles! Scotland's castles offer a journey through time which captures your imagination and leaves you breathless. Think Downton Abby's Duneagle Castle, check out our top 14 list, and then start planning your trip to the UK to visit some of the most magical, not-to-be-missed castles in Scotland!
Popular itinerary in Scotland:
Probably the most famous castle in Scotland, this local icon overlooks the capital city of Edinburgh. Located on Castle Rock, the castle holds a prominent position in the city's skyline. With over 1 million annual visitors, Edinburgh Castle is the most popular paid visitor attraction in Scotland and is a must-see when you plan your trip to Scotland.
Also known as the "fort on the shelving slope," just two miles from Stonehaven, this medieval castle is located on the northeast coast of Scotland on three and a half acres of land. Honestly, just seeing one photo of this clifftop castle convinced me that I need to visit on my next Scottish holiday! It has also attracted several famous visitors, including William Wallace, Mary Queen of Scots, and Charles II.
Dunrobin Castle
The origins of this stately home date back to the Middle Ages. Located in Sutherland, the castle still belongs to the Sutherland Clan. After extensive 19C renovations, including the addition of a beautiful garden, parts of the original medieval structure are still visible, and the amazing house and gardens are open to the public.
This one might be my favorite. Eilean Donan is a small island where three lochs meet, and a footbridge connects the island to the mainland. I love how unique this 13th century castle looks, surrounded by stunning nature and dominating the small island. It is considered a quintessential Scottish castle – Duneagle Castle style – and is frequently photographed. Visit the castle to learn about its fascinating and dramatic history, full of clan feuds. This romantic castle is quite the Scottish celebrity as it appeared in several films, including Highlander and the World is Not Enough.
Duart Castle
Another one of my favorites! Maybe I just love the way an old castle looks, perched above the water, surrounded by green hills and snow capped mountains? I mean, who doesn't love that? Strategically located at the end of a peninsula, this ancient castle was given to the Scottish Chief in the 14th century as a marriage dowry. Visitors can explore the dungeons and admire the breathtaking views around the castle.
If you recognize this castle as "Duneagle Castle" from Downton Abbey's 2012 Christmas special, you are on the mark! This beautiful neo-gothic castle is surrounded by 16 acres of gardens and is housed on a 60-acre estate located on the shores of Loch Fyne, the longest sea loch in Scotland. Visit between April and October to enjoy the gardens, and check out the large weaponry collection exhibited here.
Glamis Castle
Home to the Lyon family since the 14th century, this impressive castle in Angus, Scotland is open to the public. With beautiful parks, streams, and gardens, the castle grounds are also the site of the production of lumber and beef. There is also an arboretum on the grounds, home to trees from all over the world, birds, and wildlife. Visit to learn about the several spooky myths and legends connected to this castle.
Rather than a stately preserved castle, Urquhart now stands in ruin, dating back to the 13th century. Due to its strategic location, this large castle witnessed the wars of Scottish independence. Once one of the largest castles in Scotland, Urquhart is perched on a cliff overlooking the famous Loch Ness, providing some of the best views of the beautiful area. Today it houses medieval artifacts and is a great place for believers to search for the Loch Ness monster!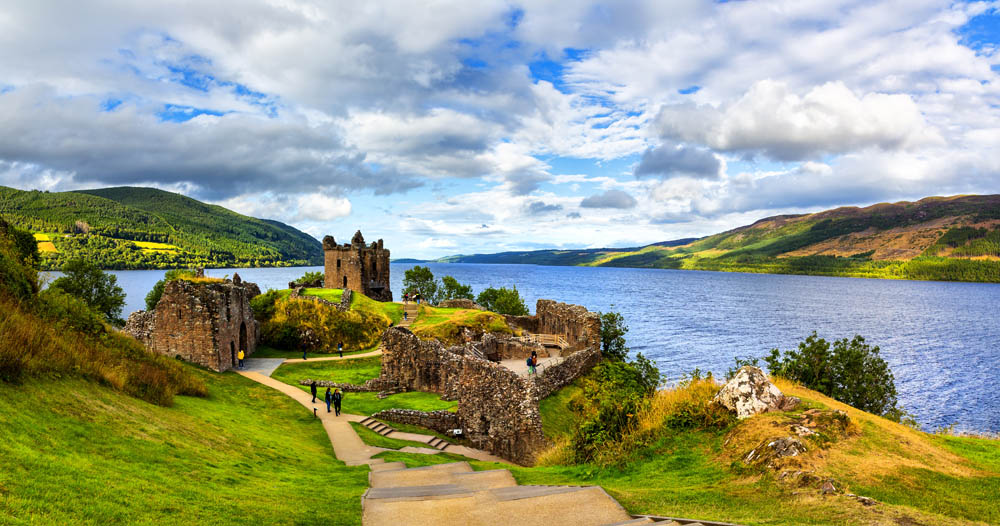 Culzean Castle
If you love ghost stories, this castle is perfect for your Scottish holiday. According to legend, this castle is haunted by at least seven ghosts! So hopefully you'll meet at least one when you visit. This stunning castle is home to beautiful, manicured gardens and is located on a cliff top in Culzean Castle Country Park. The castle is open to the public an dis recognizable from the back of the Scottish five pound note!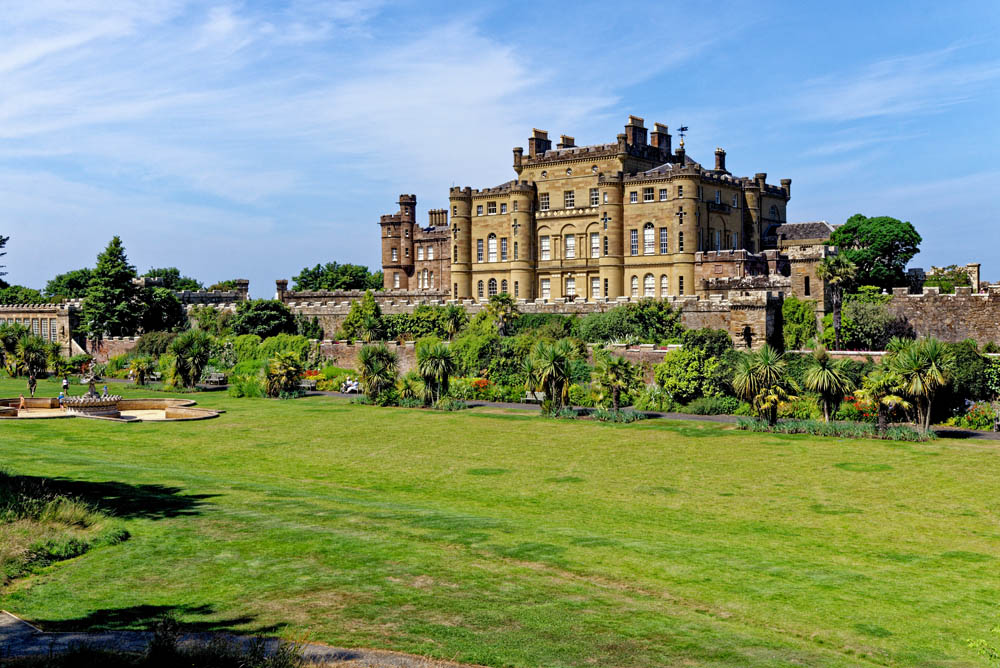 Castle Fraser
Located in the Aberdeenshire region of Scotland, this medieval castle boasts over 300 acres of beautifully maintained grounds and gardens, including woodland and farmland. The castle is open to the public from Easter through October, but the grounds are open all year round. According to legend, wood was built over the stairs to cover bloodstains from a murdered princess who still haunts the castle today.
Dunvegan Castle
Located on the west coast of Scotland, this scenic castle, surrounded by beautiful, green rolling hills, will also remind you of Duneagle Castle. It is the oldest continuously inhabited castle in Scotland, having been occupied for over 800 years.
This large medieval castle dates back to the 15th century and has been witness to several important historic events, including the crowning of Mary Queen of Scots. Due to its strategic hilltop location, it stands between two famous battlefields.
Alnwick Castle, a/k/a Hogwarts! This famous 11th century castle appears in several films, including Harry Potter and the Philosopher's Stone, Harry Potter and the Chamber of Secrets, Elizabeth, and Robin Hood: Prince of Thieves. In addition to its beautiful grounds, a major attraction at this castle is magic and broomstick "flight" training. The well-preserved castle is open to the public during the summer.
Cawdor Castle
Although built after the 11th century Macbeth's fictional life, this castle is famous for its connection to Shakespeare's Macbeth, which mentions the "Thane of Cawdor." Tours of the castle allow visitors to view many beautiful rooms, decorated with period furniture and artifacts.
If you've had a Scottish holiday and seen some of these fantastic castles already, let us know which was your favorite! And, if you haven't yet had the fun of strolling through castles like the royalty in Duneagle Castle, leave us a comment below to let us know which one inspires you to visit Scotland!